All services
The company's main specialization is to carry out work for protection of production equipment from harmful and destructive factors on an enterprise. An integrated approach to solving the tasks allows you to ensure maximum results, which is expressed in increasing equipment performance and reducing the propensity to wear.
Technical audit of the enterprise and analysis of problem sites of the enterprise

Development of technologies for increasing equipment service life

Manufacturing, delivery and installation of bimetal sheets SWIP

Restoration and repair of equipment with the use of wear-resistant materials

Equipment lining refractory, thermal insulation materials

Turnkey repair and restoration work on production sites

Welded, surfacing works, metal fabrication of any complexity

Monitoring, control of work and technical maintenance of equipment
Would you like to increase the effectiveness of your enterprise? Begin with a technical audit.
GET A QUESTIONNAIRE
Additional services
Large production capacity allows to solve the tasks in a comprehensive manner. The result is achieved due to a wide range of additional services.
Metal cutting with guillotine shears

- Product maximum thickness is 12 mm
- Product maximum width is 2000 mm
- Product maximum thickness is 2 mm

Correction of sheets on a blade machine

- Sheet maximum thickness is 22 mm
- Product maximum length is 12 m
- Sheet maximum width is 1700 mm

Stamping of parts on a hydraulic press

- With force up to 250 tons

Bending of profiles on a bending press

- Product maximum thickness is up to 8 mm
- Product maximum length is 2-2.2 m

Sheet metal rolling

- Maximum width of the rolled sheet is 2000 mm
- Maximum thickness of the rolled sheet is up to 20 mm
- Minimum bending radius is 220 mm

Welding and surfacing works

Metal fabrication of any complexity

Metal cutting: plasma-based and gas-oxygen

- Product maximum length is 4000 mm
- Product maximum width is 2000 mm
Laboratory services
Steel Work company additionally provides the services of the Laboratory of Metal Technology. Here below you can find a list of tests that are conducted by the Laboratory.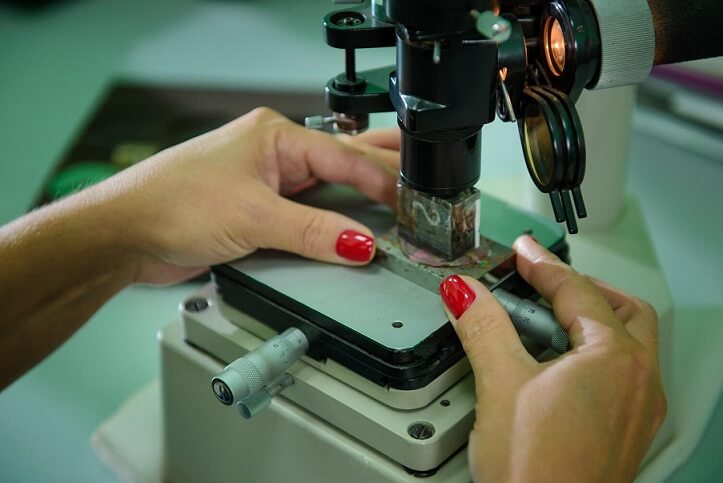 WHAT TYPES OF METAL CAN BE TESTED IN OUR LABORATORY?
Steel castings, GOST 977-88
Steel forgings, GOST 8479-70
High-quality and shaped mill products of ordinary quality, DSTU 4484: 2005 (GOST 535-2005)
Sheet and large-scale mill products from constructional qualitative steel of GOST 1577-93
Rolled plates from carbon steel of ordinary quality, GOST 14637-89
Rolled carbon steel sheet of high and ordinary quality of general purpose, DSTU 2834-94 (GOST 16500-97)
Rolled steel of high strength, GOST 19281-89
Welded metal, TU U 28.7- 318395 61 -002-2002
Universal sheet and broadband mill products of special purpose made of structural alloy stainless steel, GOST 11269-76
High-quality, calibrated mill products with special surface finish made of high quality carbon steel, GOST 1050-88
Constructional alloyed steel, GOST 4543-71
Castings from alloyed, wear-resistant steels, alloys and cast irons for parts of mining and metallurgical equipment, according to the relevant State Standards and Specifications Welded metal, TU U 28.7- 318395 61 -002-2002
Parts of tool, bearing, spring and other alloyed and carbon steels and alloys, according to RD
Castings, parts made of gray, ductile, high-strength cast iron, etc., according to RD
WHAT INDICATORS CAN BE DEFINED DURING THE TESTS?
Mechanical Testing

Tensile Strength
Yield Strength
Elongation Limit
Taper Limit
Bend
Impact strength at room temperature
Brynepl hardness
Rockwell hardness
Metallographic testing

Surface defects
Macrostructure
Microstructure
Metal quality inspection
Wear causes examination research
Damage causes examination research
Examination of causes for equipment parts failure
Determination of metal quality
Testing conditions
There is a set of requirements for metals, alloys and welded joints, which must be followed to obtain the most accurate results.
Requirements for mechanical tests

Mechanical tests can be carried out on accurately and qualitatively mechanically manufactured samples that meet the requirements of RD

General mandatory requirements

At least two people should conduct research on testing machines after preliminary testing of test methods.

Requirements for metallographic tests

Studies of carbon and low-alloy steels are impossible without polishing thin sections on cloth. This requires a polishing machine, cloth.
DO YOU NEED ADDITIONAL INFORMATION?
Click the button below and our specialist will contact you.